CARMA
The Thoroughbred Classic Horse Show is presented by the Siegel CARMA Foundation.
About the Siegel CARMA Foundation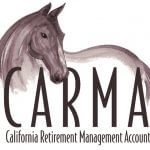 The Siegel CARMA Foundation was created in 2009 thanks to a major gift by Mace Siegel, an owner, breeder and recognized leader in Thoroughbred racing. Breeding and racing under the stable name Jay Em Ess Stable, with his wife Jan and daughter Samantha, Siegel was known for his dedication to the sport and his commitment to charitable causes both in and out of racing. Samantha Siegel is a member of the CARMA Board of Directors and is the Secretary of the organization.
About CARMA
The California Retirement Management Account (CARMA) is a charitable 501 (c)3 organization formed to assist Thoroughbred rehabilitation and retirement organizations that care for and retrain horses who raced in California and whose racing careers have ended. CARMA ensures the racehorses have retirement options by managing and disbursing funds to qualified charities. Since its inception in 2008, CARMA has granted more than $1.08 million, and more than 80 percent of the funds raised are used in the day-to-day care of these horses.
Volunteer or donate
Shows and events are created to help OTTB horses to retire and find new homes. We encourage you to reach out to us if there is anything you feel you would like to help us with!
Things we may need-
Horse feed
Sand
photographers
caterers
venues/spaces for events
veterinary care
horse blankets
potential new owners
any suggested donations, we are open to hearing about.
support on social media #TCHSgalway @carmacares